Learn innovative ways to share your SNAP-Ed story with key stakeholders. Attend the upcoming Data Visualization Workshop to learn more!
The workshop will be held on October 18th from 9:00 a.m. – 4:00 p.m. at the Kellogg Center in East Lansing. Registration will begin at 8:00 a.m.
This is a required workshop for all FY19 SNAP-Ed Partner organizations, but only one person per organization should attend – either the Program Lead or Evaluator. Work with your MFF SNAP-Ed Project Manager to determine the most appropriate person to attend.
Travel expenses will be reimbursed by MFF.
Register and make your hotel accommodations before September 14th.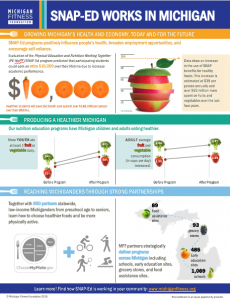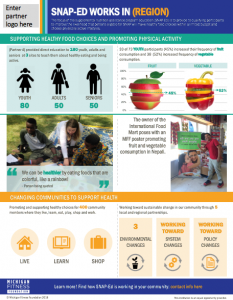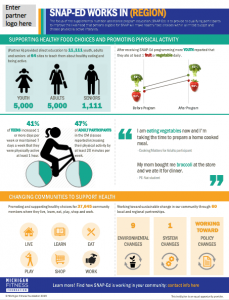 What You Need to Bring:
Laptop
Analyzed data and outcomes

Your MFF SNAP-Ed Project Manager will reach out to work with you individually to determine the data outcomes you need to bring to this workshop.
**Please send any remaining FY18 data to MFF as soon as possible so it can be returned to you for analysis and outcome reporting prior to the workshop.**
Meals
Lunch will be provided for workshop participants. Please indicate any dietary needs on your registration form. Kellogg strives to use reasonable efforts in food sourcing, preparation and handling procedures, though they cannot guarantee that allergies may not have been introduced during another stage of the food chain process or, even inadvertently, during preparation.
Hotel Accommodations
We have a room block with the Kellogg Hotel and Conference Center. The negotiated room rate is $75 per night. Please make your room reservation directly. The hotel will ask for your credit card to hold the room and must be presented at check in for any incidentals. The room itself will be billed directly to MFF. Cancellation is accepted 72 hours or more prior to arrival date. Should you cancel less than 72 hours of your arrival date, (or no show), you will be responsible for the room fee and your card will be charged. Please note that room reservations must be made on or before September 14, 2018, in order to guarantee the negotiated room rate.
Kellogg Hotel & Conference Center
2019 S. Harrison Road
East Lansing, MI 48824
Directions: https://goo.gl/maps/pYCVtvE4d6m
Parking
Parking is included with your room stay in the adjacent covered parking garage.
Reservations
Make reservations directly with the Kellogg Hotel & Conference Center by calling 800-875-5090 or online via www.kelloggcenter.com. Use our group room block code to receive negotiated room rate of $75 per room, per night: 1810MIFITN. Please note that our negotiated room rate ends on September 17th, 2018.
Click on the "Reservations" link at the top of the page
Click the "Book Now Online" link
Enter the arrival, departure, rooms, and number of adults and children
Click "More Options" and enter the Group Code: 1810MIFITN
Click "Check Availability"
---
Michigan Fitness Foundation SNAP-Ed trainings welcome participants from MFF Partners, projects, and others who work in SNAP-Ed. If you require a reasonable accommodation to participate in training (in-person, online, etc.), please contact us at (517) 347-7891 or training@michiganfitness.org.